Recent Projects - Website Design, Website Redesign and SEO Success Stories
David Williams Web Design Portfolio features satisfied web design and website redesign clients from diverse business and organization backgrounds. Visually compelling, improved navigation and usability augmented by approved techniques for Search Engine Optimization are the marks of a professional web designer.
Below are just a few examples of recent website redesign, website design and Search Engine Optimization (SEO) projects to add to our growing portfolio of satisfied web design customers.
If the search engines can't find you...

are you really "online?"
NOTE: While individual results may vary - It is easy to see that David Williams is dedicated to promoting your web site to get favorable results in Search Engine Ranking! And while there are numerous variables that play into the website ranking - measurement of the growth these customers have realized since David Williams was hired as the web developer to design, redesign and optimize their web site shows a significant improvement in search engine ranking.
Recent additions to the growing portfolio of satisfied clients who hired David Williams as their web designer, search engine optimizer or to redesign their website.
We do not condemn nor criticize former developers in these listings - nor will you find the name of the former designer ~ That's not our style.
These customers sought our Web Design & SEO services to take their web sites to the
next level in their internet marketing efforts
and we are honored to serve all of our customers in that professional capacity.
MJCare Professional Health Care Services
See the Custom Flash Banner that David Williams created for MJCare Professional Health Care Services in Milwaukee, Wisconsin.
Town of Alfred New York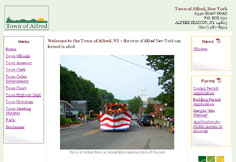 Town of Alfred Launches New Website

The Town of Alfred is pleased to announce the launch of their new website, www.townofalfred.com.

Coinciding with the town's ongoing efforts to disseminate information to the community the town's new website is dedicated to providing town residents and visitors to the area with information about the town's; officials, town meetings, town court, town historian, access to commonly requested forms and answers to frequently asked questions. Launched in the first week of October the website has already begun receiving visitors for desired keywords and is off to a promising start toward their desired goals.
David Williams Professional Web Design / SEO Services for TownofAlfred.com
Angelica Inn Victorian Bed & Breakfast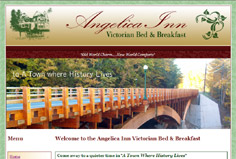 "One of the best Bed & Breakfasts we have visited in Western New York" the Angelica Inn Victorian Bed & Breakfast in Angelica, NY has much to offer travelers, vacationers, alumni and people looking for getaway weekend packages in Allegany County.
Dave was hired to redesign the Angelica-Inn.com website from the ground up by the new owners/innkeepers ~ the Zobrist family.
Cari L. Zobrist is a chef and brings a whole new dimension to the inn - traditional dishes with a gourmet flare.
Be sure to contact the Angelica Inn and enjoy, Old World Charm & New World Comforts. Go ahead, pamper yourself in the warmth of Victorian elegance.
David Williams Professional Web Design / SEO Services for Angelica-Inn.com
Leadership and Management Training Seminars by Dr. Robert K. Bitting, PhD, LMHC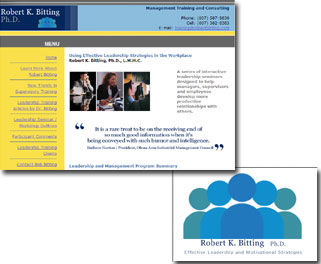 www.RobertBitting.com
As a former manager with the world's leading retailer ~ Dave fully appreciates the leadership and management training seminars and skills taught by Bob Bitting of Alfred in Western New York (NY).
While Dave has not yet participated in Dr Bitting's Training Seminars it is clear from the training information and client testimonials that "Dr. Bob" is a gifted and knowledgeable speaker.
Be sure to visit Bob's website for more details on Leadership & Management Training Seminars for your organization.
David Williams Professional Web Design / SEO Services for RobertBitting.com
Virdee Medical Group, PLLC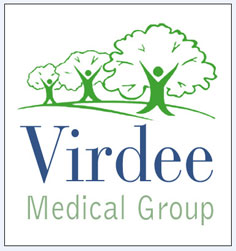 Dave was honored to create a custom logo for Dr. Tejinder Virdee's new practice on Seneca Street in Hornell, NY.
David Williams Professional Logo Design Services for Virdee Medical Group 181 Seneca Street | Hornell, NY
Virdee Medical Group, PLLC
Pediatrician - Pediatric Medicine

Dr. Tejinder Virdee
181 Seneca Street
Suite # 2
Hornell, NY 14843
Phone: (607) 324-0660
Country Kids Daycare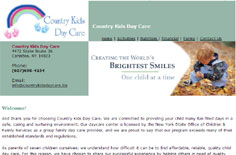 Country Kids Day Care in Canisteo, NY is committed to providing your child many fun filled days in a safe, caring and nurturing environment.
Under Director Sandra Ritenburg the daycare center in Canisteo NY is licensed by the New York State Office of Children & Family Services as a group family day care provider, and their program exceeds many of their established standards and regulations for Daycare in Steuben County and New York.
David Williams Professional Web Design / SEO Services for CountryKidsDayCare.biz
Forget Me Nots Bracelets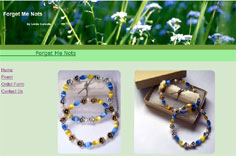 Dave was honored to be a part of this touching website for Mrs. Linda Calcote.
We have all experienced loss in our lives and Linda hand makes these beautiful remembrance bracelets to ease the pain while helping us remember.
There's a beautiful remembrance poem as well - Please do check out Linda and her touching work.
David Williams Professional Web Design / SEO Services for Forget-Me-Nots.biz
Home & Health Care Services, Inc. Hornell, NY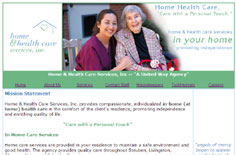 Stephanie Conway Executive Director
Home & Health Care Services, Inc. provides compassionate, individualized in-home (at home) health care in the comfort of the client's residence, promoting independence and enriching quality of life.

"Care with a Personal Touch"
Home care services are provided in your residence to maintain a safe environment and good health. The agency provides quality care throughout Steuben, Livingston, Allegany, Yates and Schuyler Counties.

Their home health care professionals are ready to discuss and answer any questions you may have. After an initial assessment of your needs they will set up a care plan that best meets your individualized health care needs.

David Williams Professional Web Design / SEO Services for HomeandHealthCare.org
MetroSonic Recording Studio in New York, NY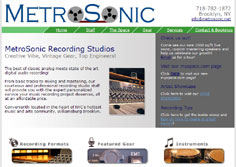 Owner: Pete Mignola
New York, NY | New York City | NYC | Brooklyn
Located in the heart of NYC's hottest music and arts community ~ Williamsburg, Brooklyn. MetroSonic is a Full Service Music Recording Studio offering Mixing, Mastering, Professional Music Producers & Engineers and the gear and equipment you need to complete your music recording project.
David Williams Professional Services for MetroSonic.net
Organic Search Engine Optimization (SEO)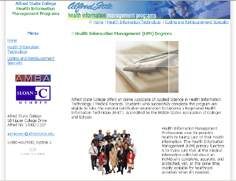 Alfred State College
Health Information Management Program
Director Professor Michelle Green
Alfred State College offers an online Associate of Applied Science in Health Information Technology and Medical Records.
Students who successfully complete the program are eligible to take the national certification examination to become a Registered Health Information Technician (RHIT). Accredited by the Middle States Association of Colleges and Schools.
Coding and Reimbursement Specialist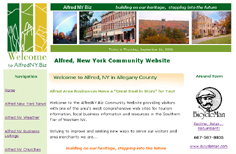 AlfredNY.Biz Community Website
provides visitors with one of the area's most comprehensive web sites for tourism information, local business information, local weather, and resources in the Southern Tier of Western NY.
David Williams Professional Web Design / SEO Services for AlfredNY.Biz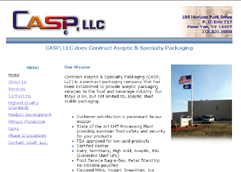 CASPLLC.com
Contract Aseptic & Specialty Packaging, LLC
Contract Aseptic & Specialty Packaging (CASP, LLC) is a contract packaging company that has been established to provide aseptic packaging services to the food and beverage industry. Our focus is on, but not limited to, aseptic shelf stable packaging.
David Williams Professional Services for CASPLLC.com
Visit their website here: www.CASPllc.com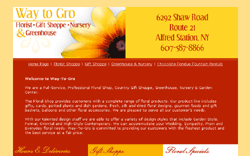 WayToGroFlorist.com
Florist, Gift Shoppe, Nursery and Greenhouse
WayToGro is the "Way To Go" if you're looking for a Florist, Gift Shoppe, Nursery or Greenhouse in the Alfred, NY area.
WayToGro has everything you need for your special events and home decorating ~ both inside and out.
Weddings - check
Landscaping and Nursery - check
Bedding plants & Hanging Baskets - check
Unique Gifts - check
Beautiful Floral Arrangements - check
David Williams Professional Services for WayToGroFlorist.com
Visit their website here: www.WayToGroFlorist.com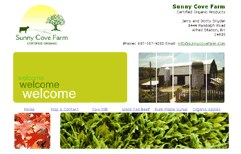 SunnyCoveFarm.com
Organic Raw Milk, Organically Raised - Grass Fed Beef, Pure New York Maple Syrup, Country Gift Shop, Organic Apples & Organic Farm Tours
Sunny Cove Farm is a small family dairy farm producing high quality milk since 1977 in Alfred, New York (in Allegany County, NY).
Dotty and Jerry Snyder transitioned to organic milk production in 2002 and are certified by the Northeast Organic Farming Association of New York (NOFA-NY) for organic milk, organic beef, organic maple syrup, and organic apples.

Horizon Organic recognized Sunny Cove Farm for their exceptional milk quality in 2003, 2004, 2005 and Jerry was honored to be a workshop presenter on producing quality milk at the NOFA-NY 24th annual conference in Syracuse, NY.


David Williams Professional Services for SunnyCoveFarm.com
Visit their website here: www.SunnyCoveFarm.com
Download & Save Your Customer Website Planner
Ready to get started with your web design, website redesign or Organic SEO project? Click the link or icon below to download and save your copy of
David Williams Customer Website Planner


Simply complete the form as accurately as possible, save it, and return it to David Williams as an Email attachment.
---
Click here to contact David Williams today and learn more about Affordable Web Design - Professional Web Development - Search Engine Optimization and Marketing for your organization.
Professional Web Design Projects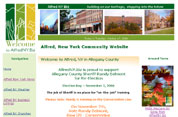 Alfred NY Community Website - Serving Western NY & the Southern Tier
Launched in January 2003 AlfredNY.Biz was created to serve merchants and those looking for goods and services in the Alfred area. The logo, the site layout and color scheme were completely redesigned in September of 2006 to increase appeal and reflect the growth of the site and its audience.
Features include: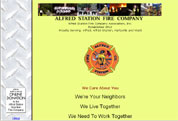 Alfred Station Volunteer Fire Company
Alfred Station Fire Company is more than a web design project to Dave. Up until recently, when Dave's youngest son moved to Philadelphia - all four members of the Williams' household were active members of the fire company. Dave, his wife Cathy and his eldest son Jason continue to serve the Alfred Station Fire Company and the communities it protects.
Features include: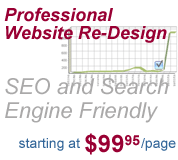 "Putting up a website for your business without professional SEO and SEM is like buying a phone for your business but using an unlisted number"