Organic SEO (Organic Search Engine Optimization) & Natural SEO - Creating Search Engine Friendly Web Pages / Web Sites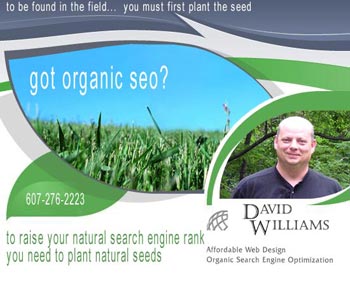 "What's your Net worth? Organic SEO by David Williams can increase your search engine ranking on the Net so you can realize a greater return on investment & see measurable growth"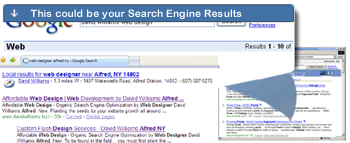 What is Organic SEO and SEM?
Organic SEO (Organic Search Engine Optimization) is the process of creating and/or improving (optimizing) web pages/sites in a "natural" manner that does not involve paid keyword specific advertising.

By applying ethical Organic SEO principals the goal is to create Search Engine Friendly web pages/sites to increase the site's value to both visitors and search engines alike.
When a search is performed in a search engine; the "natural" (non-paid) results are displayed in Search Engine Results Pages (SERPs). These results are usually displayed at the top left side of the SERPs with a link and a small snippet (brief description) of the resulting web pages/sites displayed in descending order by search relevance and rank (determined by the search engine's algorithm).
One of the advantages of deploying ethical Organic SEO over paid search engine advertising would be the fact that professionally optimized pages are more resilient to changes in the search engines.
Organic SEO or Pay Per Click (ppc)
Additionally, eye tracking studies have shown that searchers tend to read from top-to-bottom, left-to-right (just like we were taught in elementary school) and behavioral studies have shown that searchers click "natural" listings far more frequently than "paid ads" making the top left natural listings 'prime real estate'.

The theories, principles and practical application of Organic SEO is constantly evolving. As search engines update their algorithms - my job as an ethical Organic SEO marketing professional is to work diligently to insure my organic optimization techniques are up to date.

And, finally, by performing ongoing keyword research as part of our organic optimization strategy, changes can be rapidly deployed to adjust for shifts in online search trends and patterns.
learn about Dave's 4 D approach to Ethical Organic SEO
Looking for an SEO Company?
We Play by the Rules in all of our Organic SEO and SEM (Organic Search Engine Marketing) efforts and we will continue to perform maintenance and updates for your website with that same diligence to ethical practices.

For years David Williams has used only recognized and accepted White Hat Organic SEO Services deemed worthwhile at the time of design/development to promote web sites and augment your organic internet marketing efforts.
learn more about Search Engine Optimization
and Search Engine Marketing & Promotion
---
Click here to contact David Williams today and learn more about Affordable Web Design - Professional Web Development - Search Engine Optimization and Marketing for your organization.